Paraphrasing is a skill that students often learn in elementary or middle school. However, it is important to teach paraphrasing to high school students as well. Paraphrasing is an important writing skill. It encourages students to expand their vocabulary and modify sentence styles. It also challenges them to read closely and analyze meaning.
Paraphrasing is also an essential skill to avoid plagiarism. As high school students begin researching and developing more complex ideas, it is important to clarify the difference between paraphrasing a sentence and plagiarizing an essay.
What is the Goal of Paraphrasing?
Put simply, the goal of paraphrasing is to use the student's own words to rephrase the words of another source. When students use their own words, they demonstrate that they have interpreted the information, made sense of it, and reiterated it to their audience. Thus, the goal of paraphrasing is also to demonstrate the student's understanding of the source.
Students can also use paraphrasing as a tool to deepen their own understanding of a text. This is especially useful for English Language Learners reading at a new Lexile level. It can also help students reading antiquated texts, like Shakespeare or Beowulf. Finding meaning within each sentence or phrase can act as a stepping stone to understanding challenging texts as a whole.
Finally, an important goal of paraphrasing is to help students avoid plagiarism. Students can avoid direct plagiarism by rewording their sources and reiterating their understanding. Additionally, they can avoid other forms of plagiarism by properly integrating citations into their writing.
What is the Difference Between Paraphrasing and Summarizing?
Knowing the difference between paraphrasing and summarizing is essential for students writing standardized tests, including the Ontario Secondary School Literacy Test (OSSLT), the AP Language and Composition Exam, and both the SAT and the ACT.
Summarizing involves highlighting the main points of an entire work or idea. A summary includes some of the supporting details, but not all. The goal of a summary is to capture the "big picture." In contrast, paraphrasing involves reiterating isolated details within a work or idea. Paraphrasing restates the specific details within a work. It is not necessary to make a connection between these details and the "big picture" of a text.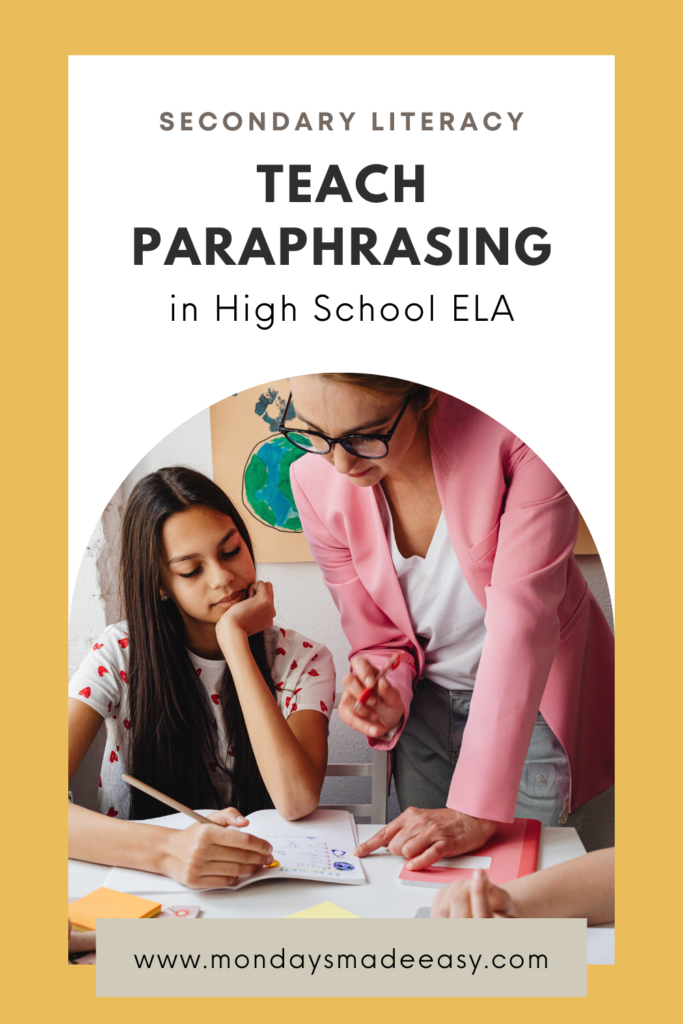 What is the Difference Between Paraphrasing and Annotating?
Paraphrasing and annotating share similarities. For one, both aim to explain a section of a work. Paraphrasing and annotating are also important parts of the close reading process. To differentiate between these two skills, it is best to consider paraphrasing as rewording the text, and annotating as reacting to the text. Deeper analysis, criticism, and opinion are important elements of annotation, but students should avoid including these elements when paraphrasing.
Activities to Teach Paraphrasing to High School Students
Use Music to Introduce Paraphrasing to High School Students
Whether they realize it or not, students are using paraphrasing skills in their everyday life. When sharing information across cultural or generational boundaries, paraphrasing is often necessary. If you've ever needed to ask your students to translate modern music or slang, then you've essentially asked them to paraphrase! Similarly, if your students have asked you to decode a challenging sentence or paragraph within a text, they've also asked you to paraphrase.
A fun way to teach paraphrasing to high school students is to start in their comfort zone. I have had great success with using modern music to teach paraphrasing to older classes. This involves finding song lyrics that rely on slang words or cultural phrases and prompting students to paraphrase each line. Your students will get a kick out of explaining the meaning of these lyrics to you.
Here are some song suggestions for this activity. (Note that some songs deal with mature themes.)

With the right group of students, exploring the genre of rap can be a productive and engaging lesson for teaching paraphrasing. Unfortunately, rap music is not written for the classroom – even censored versions deal with mature subject matter. Use your professional judgment to determine whether or not this type of activity would be suitable for your students. The following song lyrics offer cultural dialect and a level of complexity that would be an engaging challenge to paraphrase:
Apply Paraphrasing to More Challenging Texts
Now that students have practiced paraphrasing using high-interest texts, you can challenge them with literature outside of their comfort zone. Simply select an excerpt from a text written in Old English and format it on a worksheet with a blank text box next to the text. Students can paraphrase the text line-by-line to decipher meaning. This activity would pair well with any Shakespeare text in your school curriculum.
Alternatively, you could assign an antiquated text to explore as a class. Some options include The Seafarer, Jonathan Swift's A Modest Proposal, or the epic poem Beowulf. I find this activity especially effective when I divide a text amongst groups of students and assign them the task of paraphrasing different sections.
Model Paraphrasing During Read-Alouds in High School
Teaching paraphrasing can be as simple as modeling it during a read-aloud period in your classroom. This can involve pausing after reading important parts of the text to reiterate the message. You can also practice paraphrasing aloud after reading complex sentences to offer clarification.
After teaching students about paraphrasing, you can also ask them to paraphrase for you during read-alouds. If you haven't taught this skill yet, you can simply ask students a simpler prompt, like "In your own words, what is this sentence/paragraph communicating?"
To differentiate between paraphrasing and annotating, you can ask students to keep their responses separate from their reactions to the text. When they begin to offer too much insight, analysis, or criticism, you can coach them to take a step back and focus simply on the meaning.
To differentiate between paraphrasing and summarizing, you can also prompt students to summarize the text after the read-aloud. If you haven't taught the skill of summarizing yet, you can simply ask students another simple prompt like "what is this text about?"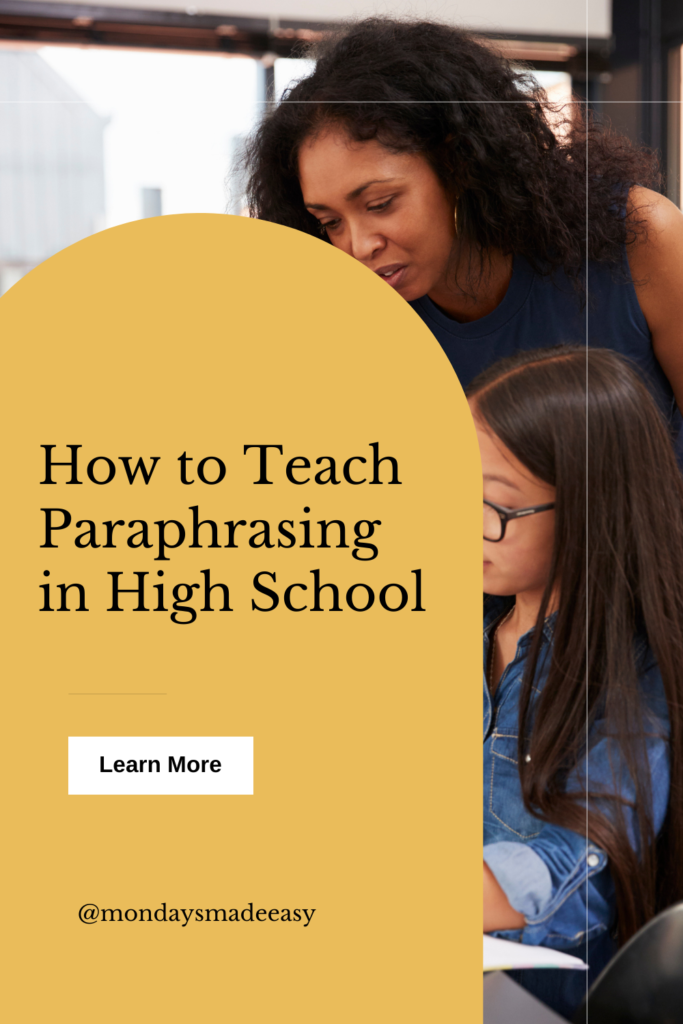 Practice Integrating In-Text Citations to Teach Paraphrasing to High School Students
As mentioned, one of the goals of paraphrasing is to help students avoid plagiarism in their writing. To do so, students must be able to properly integrate in-text citations. These two skills will help students to credit sources and maintain academic integrity.
I teach this skill explicitly to students by practicing in-text citations in class. Mondays Made Easy offers in-text citations practice worksheets to model how to write parenthetical and integrated citations in student writing. These worksheets explore high-interest topics and offer a number of differentiation options, including different Lexile levels and a Tic-Tac-Toe activity to implement student choice.
If you've been struggling to teach paraphrasing to high school students, I hope these lesson plans and ideas are able to offer you some engaging solutions. For more activities and advice for the English Language Arts classroom, be sure to follow along on Instagram: