Are you introducing poetry to your students? One of the best ways to teach poetry is to explore the structure of the poem. These structures are also known as the elements of poetry. The basic elements of poetry include meter, rhyme, scheme, verse, and stanza. In order to dive deeper into poetry, students will first need to understand these structural elements. In this blog post, you will learn strategies for teaching poetry and ideas for your elements of poetry lesson plans.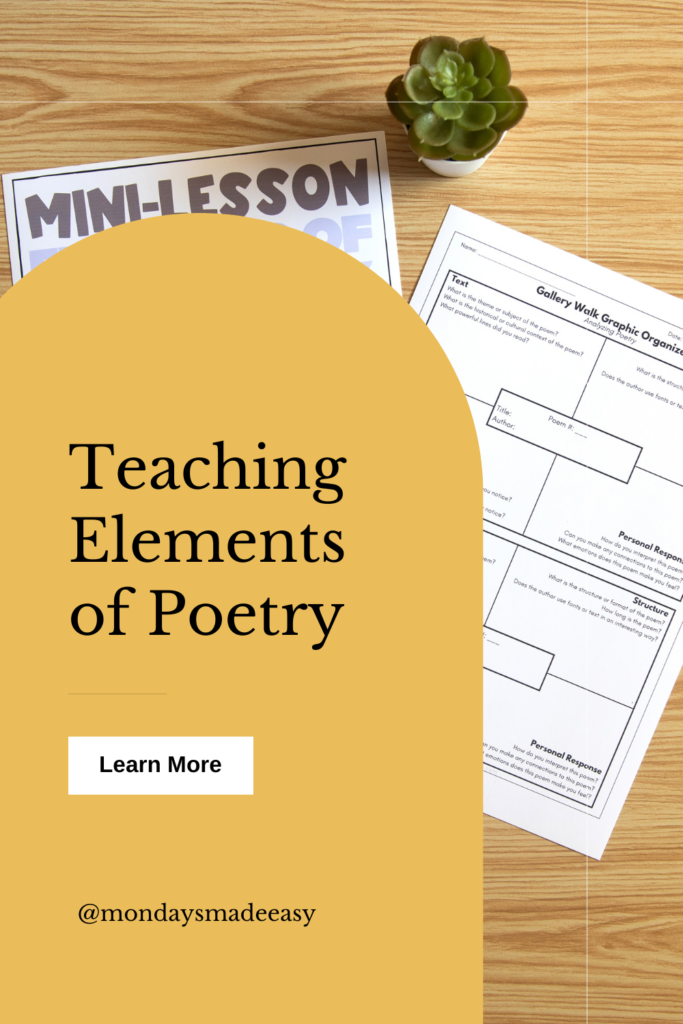 What is the importance of teaching poetry?
If you are preparing students for post-secondary education or for the workplace, you might be wondering why teaching poetry is important. Similarly, your students might question the importance of poetry in a workforce that values hard skills. The truth is, even if your students never go on to study or write poetry, it is still a very useful skill for them to explore.
You can emphasize to students that various forms of literature and writing include elements of poetry. Poetry is more than just clever rhyme schemes; it is a mode of deep and impactful expression. At its core, poetry is an art – but this art lends itself to other aspects of culture and society. If you look closely, you can find connections between poetry and politics, persuasion, marketing, music, medicine, and more!
For example, your students likely agree that persuasion is an important skill. But do they know that poetic devices lend themselves to great arguments? In his revolutionary "Letter from Birmingham Jail," Martin Luther King Jr. argues for equal rights for African Americans. He captivates his audience by showing them how inequality in America looks and feels. He does so through the use of several poetic strategies including imagery, rhythm, and metaphor.
Poetry can therefore serve as a deep dive into the artful expression of language. Your students will benefit from studying the elements of poetry in isolation because it will help them to apply this knowledge to the world around them.
Strategies for Teaching Poetry
One of my go-to strategies for teaching poetry involves scaffolding prerequisite knowledge. This includes teaching essential terminology and simply identifying how poetry is different from other forms of writing.
One way to do this is through inquiry-based learning. Prompt your students with the following questions:
"What comes to mind when you think of poetry?"
"How is poetry different from a persuasive essay? An expository essay?"
These questions will lead students to common conceptions of poetry, like the idea that poems rhyme or serve the purpose of entertainment. Your students may also identify differentiating factors from other forms of writing like grammar and structure.
You can note their responses on the board. To explore these concepts and differentiating factors further, you can use this slideshow lesson for introducing poetry.
Once students begin to identify the characteristics of poetry, you can introduce them to the basic elements of poetry.
What are the basic elements of poetry?
The basic elements of poetry are important prerequisites to understanding poetry. These elements include:
Meter: Meter is the rhythmic structure within a poem and is dictated by the number of syllables and the pattern in which these syllables are emphasized.
Rhyme: Rhyme is created when the last one or more syllables within separate words match. A poem is considered to rhyme when the last words of the lines within the verse share this relationship.
Scheme: A scheme refers to the rhyming pattern within a verse of poetry. The scheme could contain words that rhyme at each of every line throughout the stanza, or alternating lines, or in couplets. We often signify the rhyme scheme using an arrangement of letters.
Verse: The verse of the poem is a way to describe the relationship between rhyme and meter in a poem.
Stanza: A stanza is a group of lines within the verse of a poem. They often follow a similar pattern or meter or contain a similar idea, but not always. They are separated from other stanzas within the poem through the use of a break or a blank line.
If you teach high school students, you may also wish to teach specific terms including free verse, blank verse, and rhymed verse. Students will also benefit from learning about specific styles of poetry including haiku, narrative poems, limericks, and sonnets.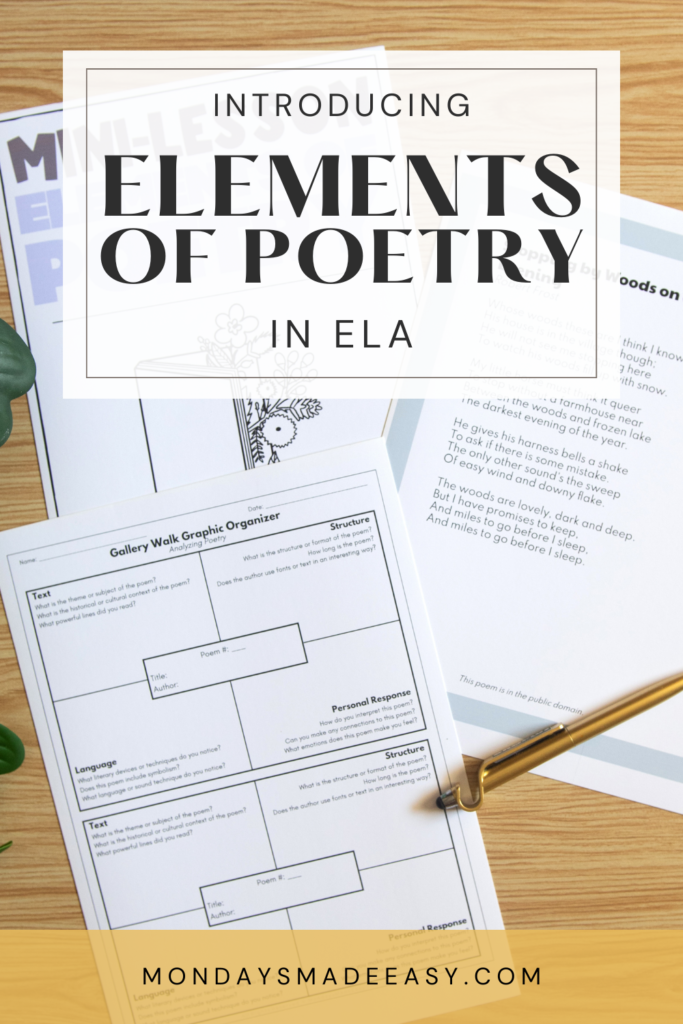 How to Teach the Elements of Poetry
The elements of poetry are essential terminology. This means that students will be required to understand these terms to succeed in your poetry unit. You can help students to understand these terms by creating a vocabulary word wall. Build this vocabulary wall as a collaborative activity by assigning different terms to different students. Alternatively, make this a group activity by having different groups explore a term.
These elements of poetry anchor chart worksheets include templates to facilitate this activity. These templates will prompt students to explore different essential terms. Students will also need to find examples for these elements of poetry. Once completed, these templates will serve as a useful anchor chart on your classroom bulletin board.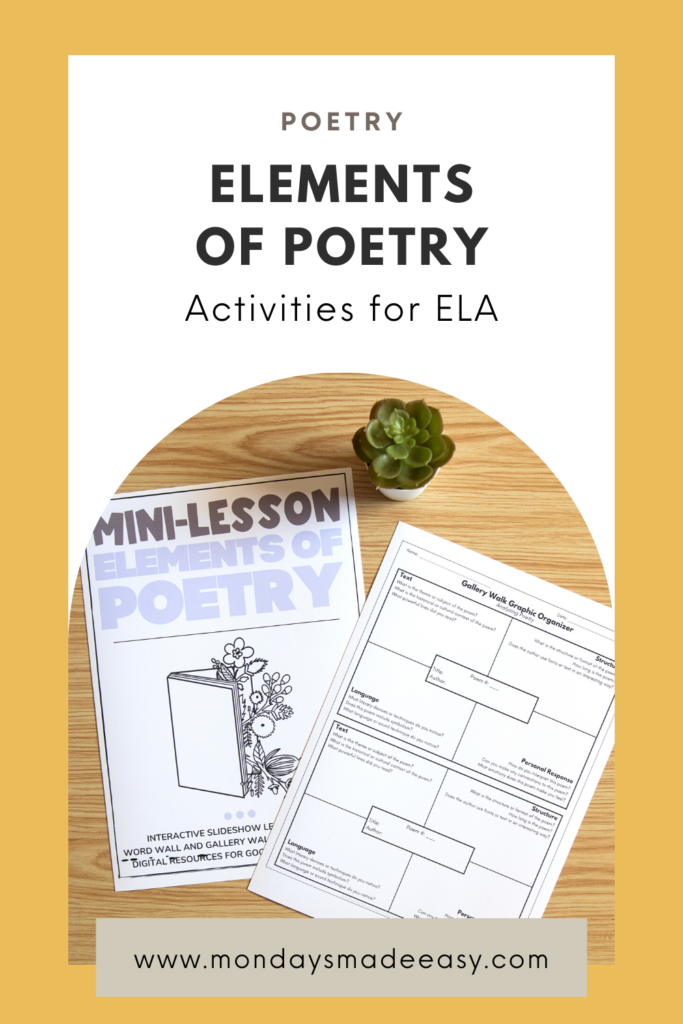 Introduction to Poetry Lesson
All of the strategies and activities mentioned in this blog post are included in this introduction to poetry lesson. This lesson includes an introduction to poetry slideshow for Microsoft PowerPoint® and Google Slides®. You can use this slideshow to activate background knowledge and explore how poetry differs from different forms of writing.
This lesson also introduces the basic elements of poetry and solidifies these concepts with key definitions. Students can then explore the characteristics of poetry in-depth using a vocabulary word wall activity. This resource includes a comprehensive answer key with definitions and examples for each of the elements of poetry. You can also use this answer key as a ready-to-print anchor chart.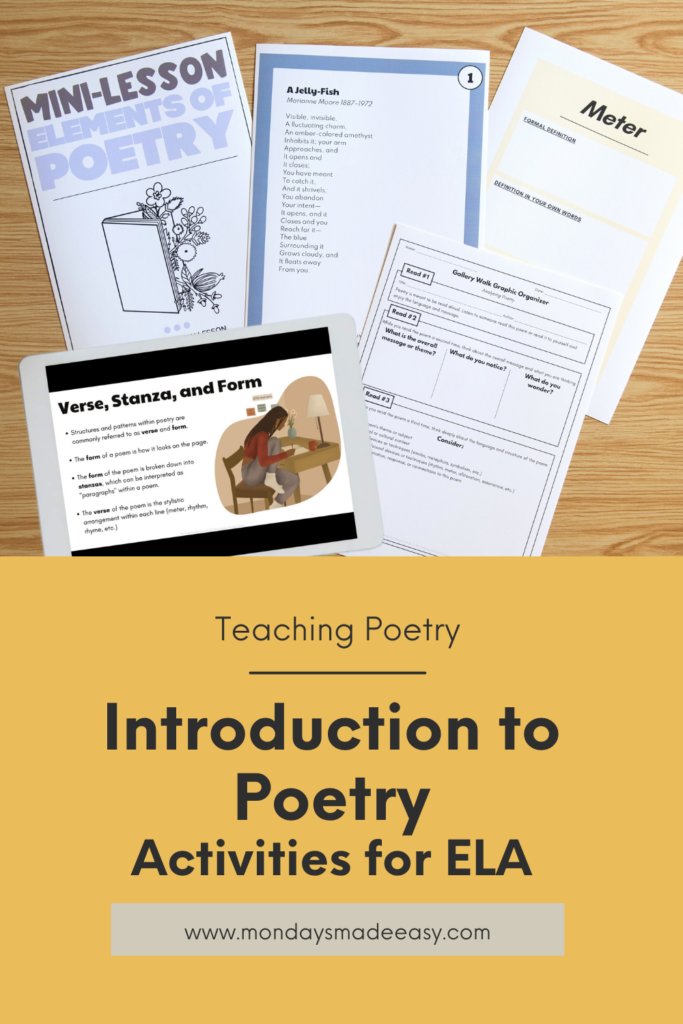 Teaching the Elements of Poetry: Tying it Together
The elements of poetry are an important core lesson for any English Language Arts classroom. Whether you are teaching an in-depth poetry unit, exploring creative writing, or simply identifying poetic devices in literature, your students will benefit from understanding these structural elements. I hope that the strategies and activities in this blog post have helped you plan a great introduction to poetry lesson!