If you've never taught a graphic novel before, you're in for a treat! Graphic novels are an engaging way to explore literature with your students. Graphic novels capture teen readers with a blend of storytelling and illustration, making them the perfect medium for the classroom. With the help of some Canadian teacher-authors, we've compiled a list of 6 of the best graphic novels for teens. The best part: all are written by authors from Canada!
What defines a graphic novel?
A graphic novel can be defined as a narrative text that combines visual art with text to tell a story. Unlike a traditional novel, a graphic novel uses illustrations to tell a story. Text elements – narration, dialogue, and call-outs – are used to further develop literary elements. They also differ from comic books in that they contain an entire story arc instead of comic "episodes." Additionally, graphic novels span a wide range of genres and complex themes.
Are graphic novels appropriate for the classroom?
Yes, graphic novels are appropriate for the classroom! Graphic novels are a great way to supplement your current literary texts. The visual elements of graphic novels can help to deepen students' understanding of characterization and themes. Graphic novels are also great aids for English Language Learners. Additionally, graphic novels support all learners in learning about text features in graphic texts. Are preparing students for the Ontario Secondary School Literacy Test or teaching the Ontario Literacy Course? Graphic novels are a great way to coach essential literacy, too!
Why are graphic novels good for young adults?
Despite their appearance, graphic novels are not just for primary education. In fact, the combination of visual art and storytelling in graphic novels creates a rich complexity. This invites abstract thinking and interpretation. There are several graphic novels that specifically target teenage audiences, addressing coming-of-age themes and incorporating the unique experiences and interests of teenagers.
The best Canadian graphic novels for teens
The Secret Path by Gord Downie and Jeff Lemire
The Secret Path is a graphic novel and multimedia project. It tells the story of Chanie Wenjack, a twelve-year-old Anishinaabe boy who died in 1966 while trying to escape from a residential school in northern Ontario. The book is written and illustrated by Canadian musician Gord Downie and graphic novelist Jeff Lemire. It follows Chanie's journey as he runs away from the school and tries to make his way home to his family.
The Secret Path also includes a series of ten songs by Gord Downie. These songs serve as a powerful accompaniment to the story. The project was created in collaboration with the Wenjack family and the National Centre for Truth and Reconciliation. It aims to raise awareness about the tragic legacy of residential schools and the ongoing impact of colonialism on Indigenous peoples in Canada.
The Secret Path is an important and moving work that has sparked important conversations about Indigenous history and reconciliation in Canada. It serves as a reminder of the ongoing work that is needed to address the harms inflicted by colonialism and to build a more just and equitable society for all Canadians.
Marissa from Creative Classroom Core incorporates this graphic novel into her unit on Canadian residential schools. The artwork and music that accompany the story are both emotional and haunting and spark deep conversations about this sad part of Canadian history.
For more information on activities that Marissa uses with her students when teaching about Canadian residential schools, check out this post from the Creative Classroom Core blog.
A Girl Called Echo by Katherena Vermette and Scott B. Henderson
You might know Katherena Vermette from her novel The Break and its "prequel" The Strangers. She is also the author of numerous children's books and a graphic novel series too! Written by Vermette, illustrated by Scott B. Henderson, and coloured by Donovan Yaciuk, the graphic novel series is A Girl Called Echo.
Lesa from SmithTeaches9to12 was introduced to the series by a student a couple of years ago. She now sings its praises to other students (and teachers too!).
The story's protagonist is Echo Desjardins, a 13-year-old Métis girl who can transport herself back and forth through time. Living in a new community, with a new family, and attending a new school, Echo uses the past as a form of escapism as well as an education about her little-known Métis history.
The series is told in four parts and focuses on different aspects of Métis history. This starts with the Pemmican wars in 1812 through the Red River Resistance and Louis Riel's rebellion in the 1880s. Part four concludes with the fallout of Riel's execution and the ensuing laws enacted to restrict land rights for Métis in Manitoba. This ushered in land speculators who pushed Métis communities to the fringes of urban centres.
On its own, it's a great read because it showcases the strength and resilience of Echo and her people in the face of historic (and ongoing) loss and pain. For those who teach grade 7 and 8 history, this series would make an ideal supplementary text to learn more about Métis history beyond just a few curriculum strands!
You can check out more about graphic novels – wordless ones – in this post from SmithTeaches9to12.
Surviving the City by Tasha Spillett-Sumner
The graphic novel Surviving the City by Tasha Spillett-Sumner is the first installment in the Surviving The City graphic novel series. This story follows two girls, Milkwan and Dez, as they navigate life in a community that doesn't respect Indigenous Peoples. Through their struggles, the story opens a dialogue regarding missing and murdered Indigenous women in Canada.

In 2019 at the Indigenous Voices Awards, Surviving The City won Best Work in an Alternative Format. Volume 2 of Surviving the City series "From The Roots Up" has been published. Kristy from 2 Peas and a Dog felt this book would be a great YA read for mature Grade 8 students with parent permission or for high school students. She added it to her Engaging YA Books blog post. If you want to find more books written by Indigenous authors check out her Young Adult Books By Indigenous Authors blog post. Learn more about the author Tasha Spillett-Sumner on her website.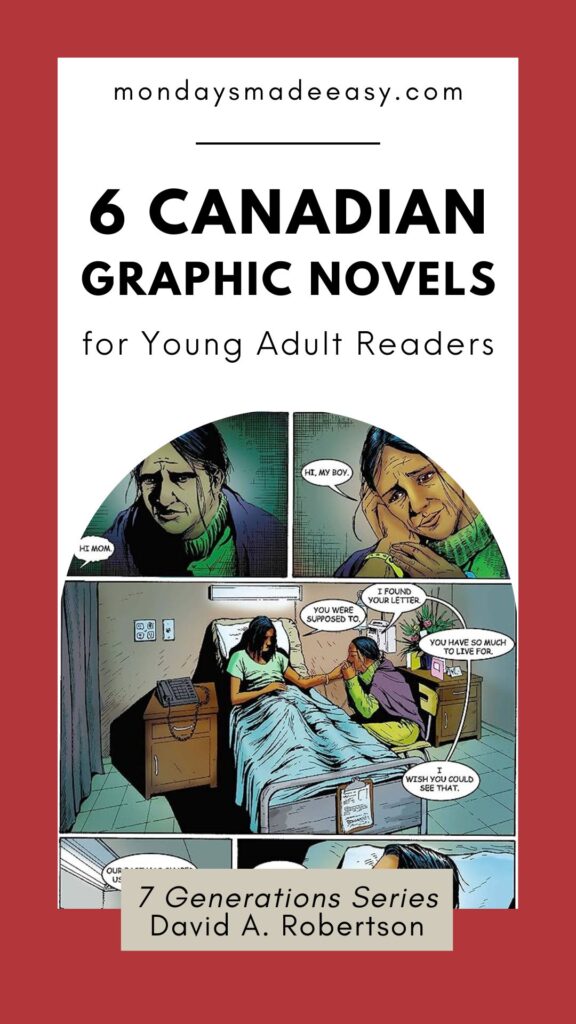 7 Generations Series by David Alexander Robertson
The 7 Generations: A Plains Cree Saga graphic novel series by David Alexander Robertson is a collection of four books that follows the story of one Indigenous family over the course of seven generations. The series explores themes of identity, resilience, trauma, and healing.
Katie from Mochas and Markbooks uses this series with her Grade 12 Applied English class. It is part of a thematic unit exploring Indigenous resilience as it relates to achieving truth and reconciliation in our country. Students read through each book in order – Stone, Scars, Ends Begins, and The Pact. They then complete a reading response for each book that asks questions about the stories as they relate to the four quadrants of the medicine wheel – physical, mental, emotional, and spiritual.
Although this series deals with some heavier themes, there is ultimately an uplifting and hopeful tone. This resonates with students and inspires them to learn more about the history of Canada as a country. It also demonstrates why learning the truth and committing to reconciliation is necessary for all Canadians. If you plan to read this series with your students, you may be interested in this post where Katie discusses how Indigenized and decolonized learning looks like in her ELA classroom.
Skim by Mariko Tamaki
One of the best graphic novels for teens is by Canadian author, Mariko Tamaki. Skim is set in Toronto and explores the teenage life of Skim, a queer, gothic, Japanese-Canadian at an all-girls Catholic High School.  This graphic novel captures Skim's life during a depressive period of her high school career.  Skim's school community is coping with a recent suicide. In an attempt to mask their grief, a clique of popular girls gathers to spread toxic positivity within the school. 
These circumstances alienate Skim further into her own solitude. Skim's English teacher, Ms. Archer, notices Skim's misery and offers emotional support – an act that causes Skim to fall into a complicated form of love.
Daina from Mondays Made Easy features Skim as one of many novels on her list of recommendations for high school students.
Amelia Aierwood – Basic Witch by Emily Hampshire and Eliot Rahal
If you are a huge Schitt's Creek fan, you have to read Emily Hampshire's new graphic novel Amelia Aierwood – Basic Witch. It combines being an awkward teenager, a clumsy witch, and celebrity life all in one adorable story. It doesn't take itself too seriously and is a quick and fun read. This makes it perfect for those students that don't invest much time in the books they read. While it does appeal to slightly younger readers (grades 6 through 9) there are themes for all ages. If you've ever felt like everything is your fault, this might even be the book for you.
The artwork in the book is so great and your students will find themselves drawing Spaghetti the Yeti. You'll have to read the book to find out what that is about.
Do you use graphic novels in your reading instruction? There are so many valuable skills that can be taught. Book clubs are one way to get your students to read a variety of books. Learn more from Brain Ninjas in their post How to Teach Reading With Book Clubs.
Powerful storytelling: the best graphic novels for teens
Graphic novels are a great way to supplement your secondary English syllabus. Through the use of engaging visuals and powerful storytelling, your students will surely love everything that graphic novels have to offer! We hope that you've enjoyed this list of the best graphic novels for teens and get the chance to try some of them out in your classroom.