Today, I'm excited to explore an immersive project-based learning opportunity that can bring any piece of literature to life. If you've conducted a classroom mock trial before, you can testify that they do an incredible job of engaging the whole class. If you're completely new to leading a mock trial – I promise you that they're not as challenging as you might think!
Mock trials don't need to be stressful. With the help of some online resources and tools, conducting a classroom mock trial can actually be quite a simple process. Mock trials offer students a differentiated and experiential learning experience; they can even be graded on the spot if you so choose! In this blog post, I'll guide you through the steps you can take to assign a successful and engaging classroom mock trial.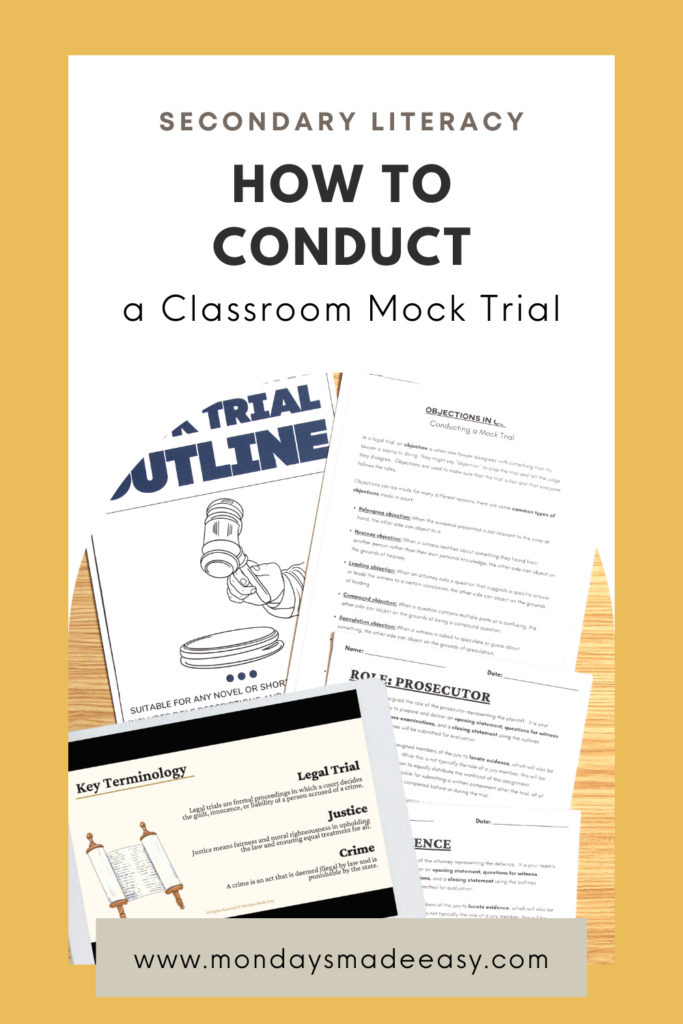 What is a Mock Trial?
A mock trial is a simulated legal proceeding designed to mimic the format and procedures of an actual trial in a courtroom setting. Typically used as an educational tool, a mock trial involves students taking on roles such as attorneys, witnesses, and a judge to explore and analyze legal issues, practice courtroom skills, and engage in critical thinking.
Classroom mock trials can be based on a real case or a fictional scenario. In the English classroom, mock trials provide a fantastic project-based learning opportunity for several short stories and novels. Mock trials also allow individuals to understand the workings of the legal system, develop advocacy skills, and gain insights into the complexities of legal proceedings.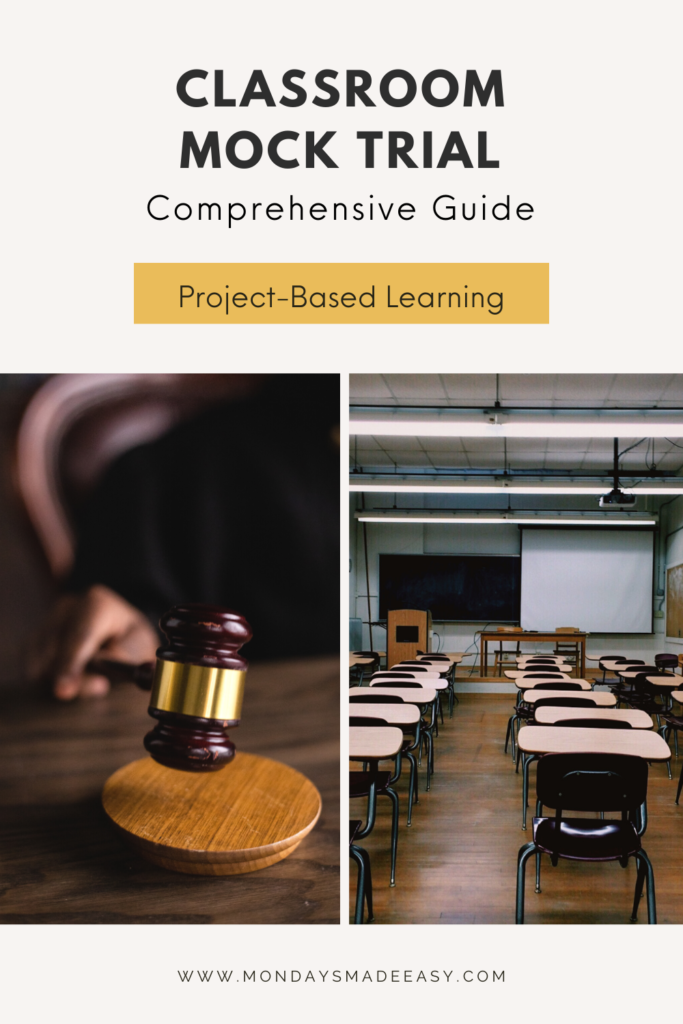 What are the Roles of a Mock Trial?
One of the incredible features about classroom mock trials is that they naturally lend to differentiated instruction. With so many mock trial roles to explore, you can find the perfect assignment to accommodate and include every student in your classroom.
Every mock trial needs a judge, prosecuting lawyer, defense lawyer, and at least two witnesses. It can also be helpful to have a designated time keeper and a jury to offer a verdict. An imitation trial would therefore work best for a class of at least 8 students; if you teach very small class sizes, you have the option of assuming the position of the judge and settling the case without a jury.
Mock trials can accommodate up to 30 or more students. If you teach 8 or more students, I recommend having students assume the roles of the judge and time keeper in order to free your time to evaluate the mock trial while it is in process. The more students you have, the more roles you can incorporate: it is ideal to have four witnesses, a substantial jury, and a few representatives from the press. A court artist is another exciting role that would serve well for the creatives in your classroom.
These mock trial roles provide a description of each student's responsibility for conducting the imitation trial. In order to balance the workload and offer more contributions to evaluate for success criteria, some of the role descriptions include a written component. This writing prompt will evaluate their knowledge of the case and have them examine the arguments presented by both sides.
What are the Steps of a Mock Trial?
Before beginning a classroom mock trial, it is important to guide students through the steps of a trial to better their understanding. Exploring key figures and terminology will also bring students with varying knowledge about the criminal justice system up to speed. I open my mock trial unit with a legal trials slideshow to activate background knowledge and prepare students for the process of a classroom mock trial.
There are approximately seven steps to a classroom mock trial: the opening statement, the witness testimonies, the cross-examination, the introduction of evidence, the closing statements, the jury deliberation, and the verdict. The jury deliberation and verdict can be eliminated if your class size is too small to accommodate a jury.
With all of these steps combined, it typically takes about a 75- or 90-minute class period to complete the steps of a mock trial. In addition to the live trial, you may wish to provide your students three to five class periods to prepare for the imitation trial. I typically spend one class introducing the mock trial process, followed by three classes to allow students to prepare for their roles.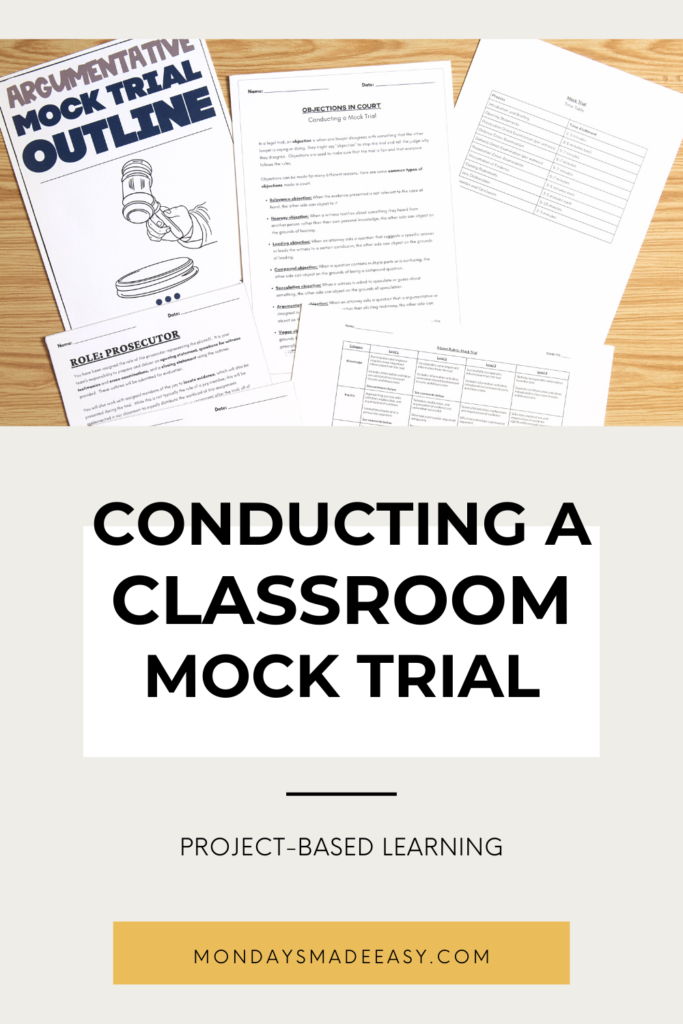 Do I Need a Script for Leading a Mock Trial?
A script is an important tool for leading a mock trial. It helps to maintain a formal tone and keep the trial moving at a steady pace. For teachers hoping to evaluate during the live trial, it can also alleviate them from the responsibility of facilitating the steps of the criminal proceeding.
For beginners or those new to mock trials, a script can provide structure and guidance, ensuring that important legal procedures and arguments are covered. It can also be beneficial when dealing with complex cases. However, as participants gain confidence and experience, they may choose to rely less on a script and engage in more improvisation, which can lead to a more dynamic and authentic experience.
Ultimately, whether or not to use a script should be determined by your specific objectives, the skill level of the participants, and the desired balance between structure and spontaneity in the mock trial. This mock trial outline includes a script for an imitation trial that can cover your bases if you hope to implement a script.
How to Conduct a Classroom Mock Trial
After introducing the steps of a mock trial and assigning trial roles, it's important to provide students with ample time to research. This is where students become literary sleuths. They need to explore the text thoroughly to understand their characters' backgrounds, motivations, and actions. The prosecution should build a convincing case against the character, while the defence must prepare a robust defence strategy. If your students do not have very much experience in developing main arguments or locating evidence, it may also be helpful to pre-teach these skills.
To prepare for the mock trial, you can create a courtroom atmosphere within your classroom. Set up a courtroom layout with a judge's bench, witness stand, and jury box. If formal attire is an appropriate request for your socioeconomic demographic, you can even encourage students to dress as their characters. This can add authenticity to the experience, but may not be accessible for every student in your classroom. Use your professional judgment to determine what is best for your bunch.
During the trial, your judge can follow the script to facilitate the event. The prosecution presents its case, the defence counters, witnesses testify, and the jury listens attentively before deliberating on and presenting their verdict. This is where students' critical thinking and analytical skills come into play as they examine the character's actions, motives, and consequences.
Once the verdict is reached, it's crucial to debrief. Discuss the trial's outcomes, the strategies used by each side, and the character's complexity. Encourage students to reflect on the character's transformation and their own insights into the text.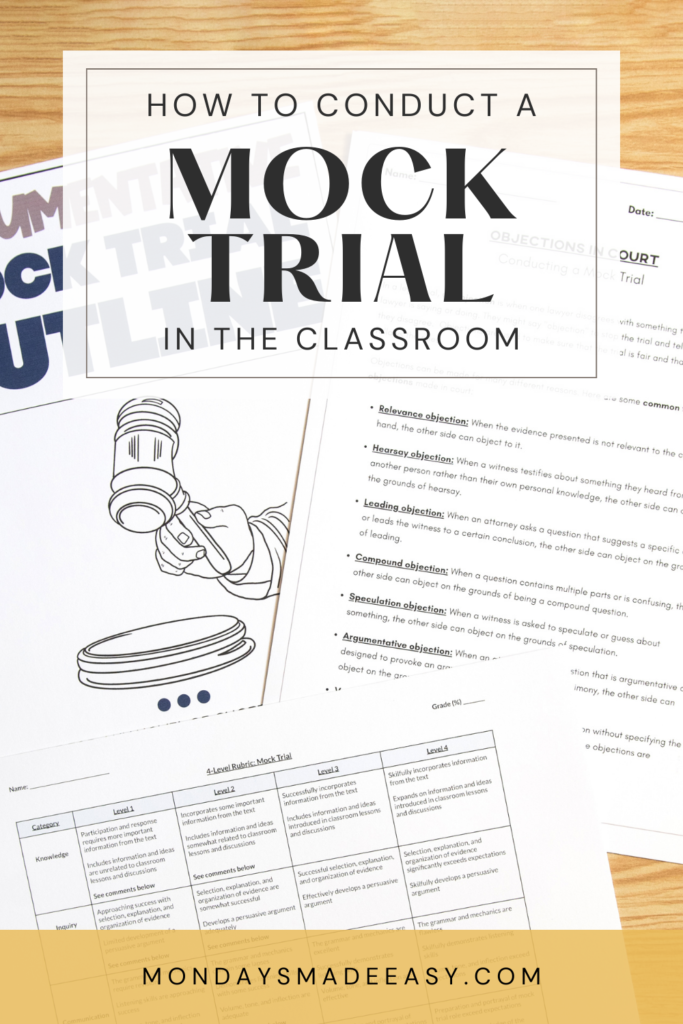 Evaluating Classroom Mock Trials
Mock trials can be evaluated on the spot using a 4-level rubric in order to save time. Since the student selected as judge can facilitate the criminal proceedings, you're relieved from the responsibility to actively participate in the trial. This is one of the reasons that I love classroom mock trials!
Depending on the role, some students will be responsible for participating more frequently in the trial. This can be a valuable opportunity to challenge gifted learners or lean on the natural talents of some of your more theatrical students. To keep this activity fair, there are ways to balance the workload. For example, these mock trial roles instruct students with responsibilities that require less effort to support the prosecutor and the defence during the research process. Other roles can be required to submit a written response after completing the trial.
This mock trial outline includes everything you need to prepare for, facilitate, and evaluate a classroom trial. Whether you require an editable guideline or ready-to-print rubric, this bundle will address all of your needs.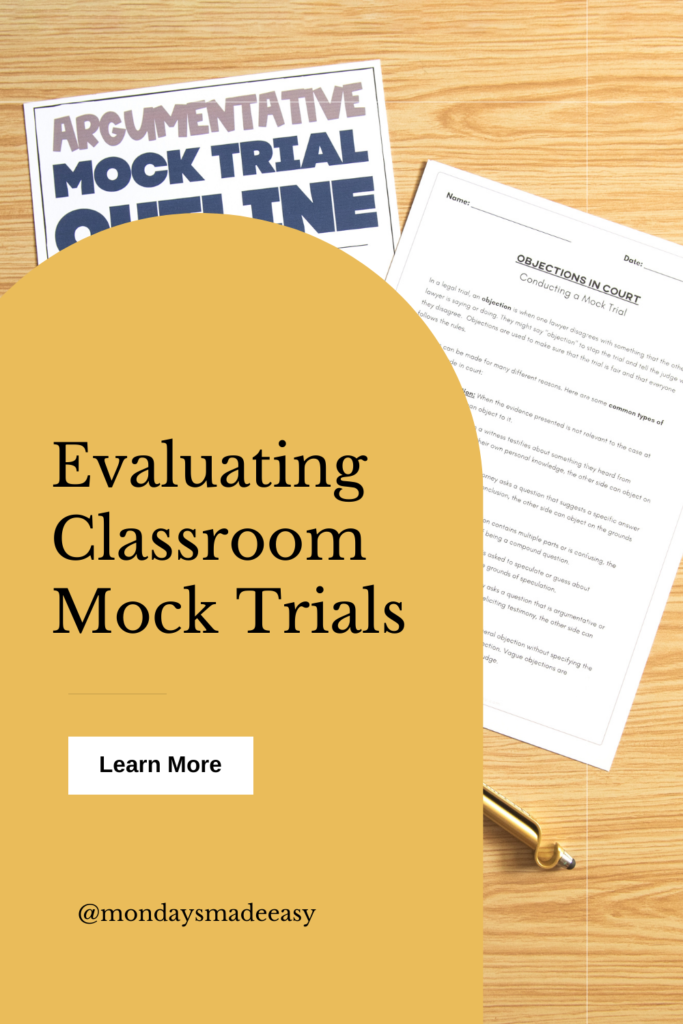 Short Stories for Mock Trials
If you don't already have a novel or short story in mind, you might be wondering which text to use as the fictional case for your mock trial. Here are a few student favourites:
Conclusion: Breathing Life into Literature
A classroom mock trial isn't just about drama; it's about making literature come alive. It's an opportunity for students to deepen their understanding of characters, themes, and the moral quandaries presented in the text. It also offers students a window to the criminal justice system and strengthens their argumentative writing. Enjoy the performance and the lasting impact mock trials will have on your students – they are sure to remember this experience for years to come!